In the Chelyabinsk prison, the famous neo-Nazi Maxim Martsinkevich, nicknamed "Tesak" (Cleaver), committed suicide.
Martsinkevich had nationalist, anti-Semitic and homophobic views. He was repeatedly sentenced to prison terms under the political article of the Criminal Code 282 "Inciting ethnic hatred".
Slasher was known for his numerous videos on the Internet in which people were beaten and abused.
In 2007, Tesak was convicted for the first time for shouting nationalist slogans and disrupting political debates at the Bilingua club with the participation of Alexei Navalny.
After his release from prison, Tesak organized several more projects "Restruct" and "Occupy-pedophilia" in which he attacked drug dealers, homosexuals and pedophiles. He posted videos of the attacks on the Internet.
Soon Tesak received another prison sentence, and after his release, another one for robbery.
After the decriminalization of criminal article 282, Martsinkevich's prison term was reduced, he was supposed to be released in May 2021.
However, about 8 months ago, he stopped communicating with loved ones.
It turned out that Martsinkevich was transferred to a prison in Krasnoyarsk.
Through lawyers, Martsinkevich said that he was being tortured by FSB officers from Moscow forcing him to take on crimes that he did not commit
FSB officers accused him of killing two people from this video:


He was forced to sign a statement and was convoyed to Moscow. But on the way, being temporarily confined in a solitary confinement cell in a prison in Chelyabinsk, Martsinkevich opened his veins.
Here is what Marcinkiewicz wrote about his possible suicide in 2014: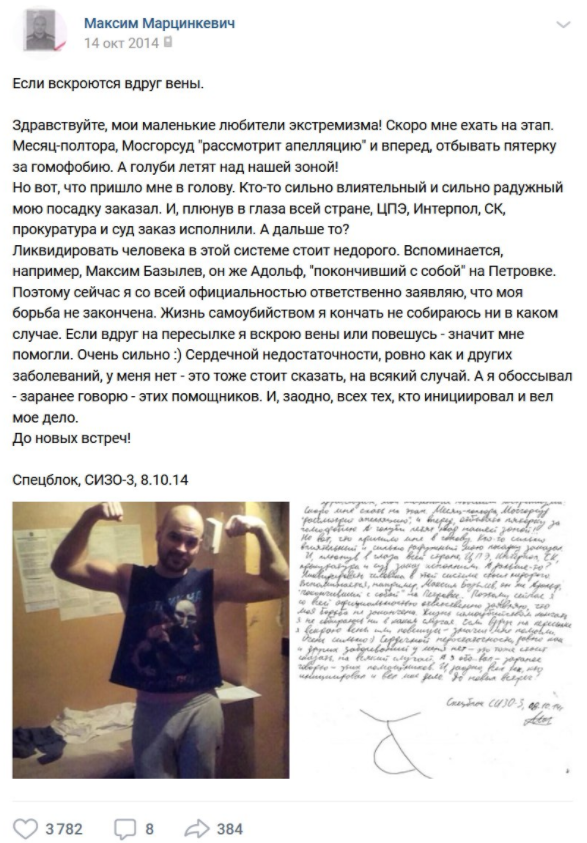 Hello my little extreme lovers! I will go to jail soon. In 1-1.5 months, the Moscow court will consider the appeal and forward, serve a prison sentence for homophobia.

And pigeons fly over our area.

But here's what came to my mind. Someone very influential and very "rosy" ordered my imprisonment.
And spitting in the eyes of the whole country, the Center for Countering Extremism (MIA), Interpol, the Investigative Committee, the prosecutor's office and the court fulfilled the order.
It is not expensive to eliminate a person in this system. I remember, for example, Maxim Bazylev (nicknamed "Adolf"), who committed suicide in prison on Petrovka.

Therefore, now I declare with full responsibility that my struggle is not over.

I'm not going to commit suicide in any way. If suddenly in the transit prison I hang myself or open my veins, then they helped me a lot. I have no heart failure or other diseases. I say this just in case.
I pissed on all these helpers. And all those who initiated and led my criminal case.
In his suicide note, he wrote:

Dear prison administration!
I apologize for the inconvenience caused.
I have a huge and final request for you. Send the prison letter to the address. Here is the number […], Yekaterina Ruslanovna Eliseeva. She is my common-law wife, lives in Yekaterinburg.
I ask you to give the book "Protectionism and Communism" and the black diary to her. Dispose of all other things.
09/15/2020. M.Martsinkevich.
A second suicide note was also found, which he wrote on the back of the photo: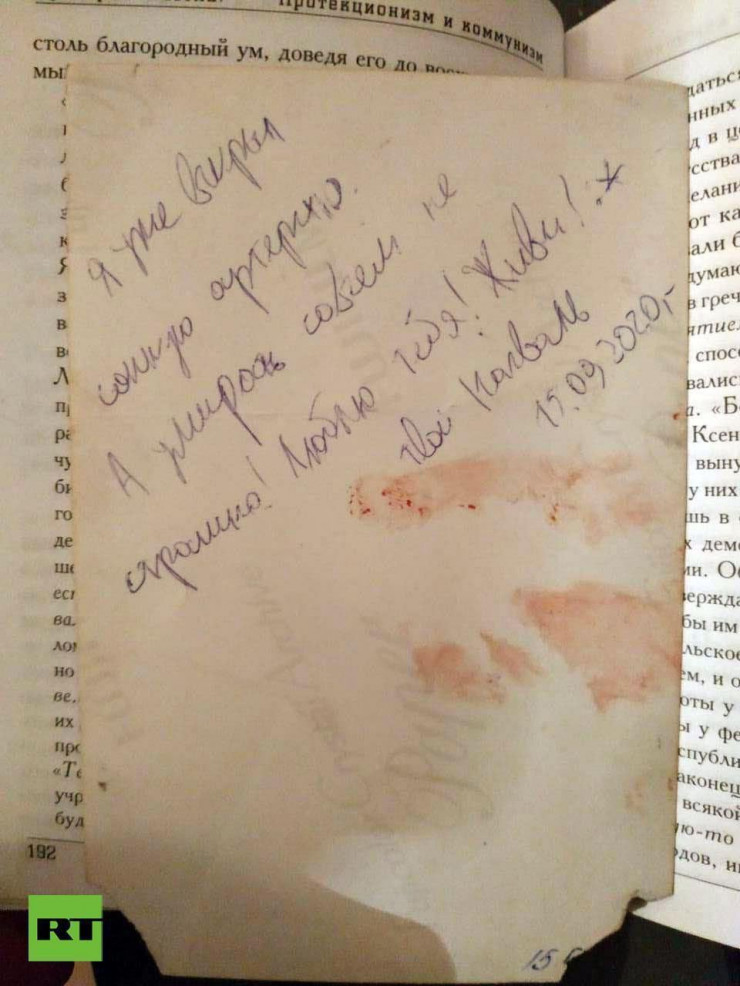 I have already opened the carotid artery. And dying is not scary at all! Love you.
Your (inaudible)
09/15/2020.
The note is stained with blood.
Martsinkevich was a skinhead and was involved in the dissemination of nationalist ideology. He shot a video where he mocked drug dealers, immigrants from Central Asia, pedophiles and homosexuals.


Added video. The corpse of Tesak in the morgue