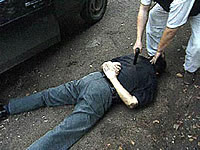 In the Moscow Region, employees of the Moscow Organized Crime Control Department detained eight criminals involved in the abduction of a secretary of one of the capital's firms.
According to the Ministry of Internal Affairs, the criminals kept the 27-year-old girl in a house that belonged to one of them, in the village of Pletniha.
According to sources in law enforcement agencies, on May 2, at about 5.00, unknown persons in Moscow abducted a 27-year-old native of the Rostov Region, temporarily registered in the capital, and took her by car to Ramensky district of the Moscow Region, in one of the villages where she was detained and threatened on May 6 murder, repeatedly raped.
The investigation found that the woman was transported to a number of other villages, where they also raped. All detainees are unemployed residents of the Moscow Region, the youngest of whom is 19 years old, and the oldest is 33 years old.
On this fact, the prosecutor's office of the city of Ramenskoye opened a criminal case under two articles of the Criminal Code of the Russian Federation – "Illegal deprivation of liberty" and "Rape".
To date, four rapists have been arrested, four are on bail.
The investigation is ongoing.