As a result of the massacre at the Kerch Polytechnic College, 21 people died, and 67 people were injured.
Content:
Massacre at Kerch College
On October 17, 2018 at about 11.30 am, 18-year-old student Vladislav Roslyakov, armed with a Hatsan Escort pump-action shotgun, entered the college building. He was carrying an improvised explosive device.
He went up to the 2nd floor of the building where he left a bag with an explosive device and a gun, and he went down to the first floor where he was for some time.
At 11.40 a break began. Roslyakov went up to the 2nd floor and took a bag with an explosive device. He took the homemade bomb to the buffet where students began to come.
A few minutes later, an explosion thundered. Roslyakov took a gun and opened aimed fire at the students and teachers.
After Roslyakov shot some of the ammunition, he headed to the college library where he committed suicide by shooting himself in the head.
The operational services worked quickly, given the tense situation in the occupied Crimea. On alarm, the military arrived at the scene, more than 100 units of heavy equipment, police and National Guard detachments left.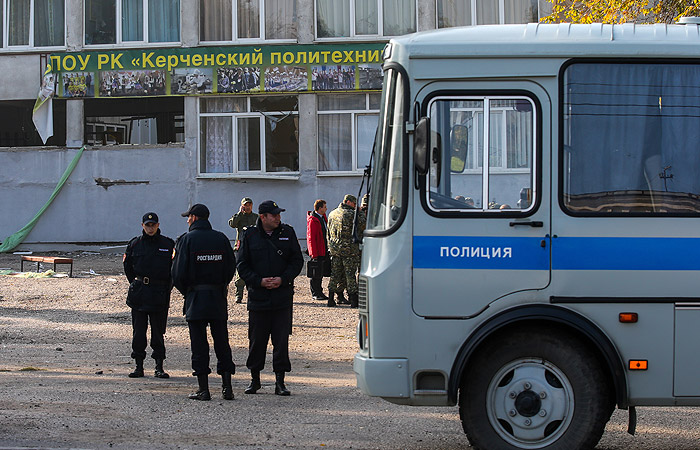 Police cordoned off the building, ambulances arrived, students and teachers were evacuated.
Some Russian media rushed to publish reports about Ukrainian saboteurs who opened fire with automatic weapons. All this was untrue.
The victims were taken to the hospital, and a state of emergency was declared in Crimea, which was canceled only on October 22, 5 days after the tragedy. A criminal case was initiated under the article "terrorist attack", and later it was re-qualified as an article about the murder of two or more persons in a socially dangerous way.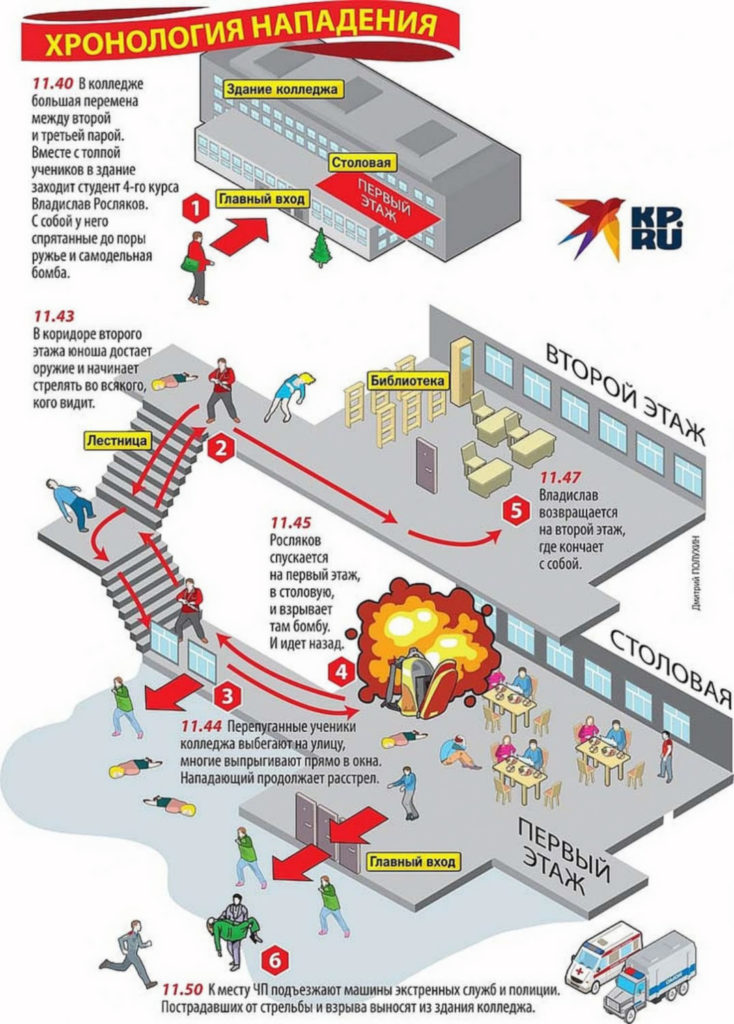 The personality of Vladislav Roslyakov and the motives of the crime
Vladislav grew up without a father, his mother Galina Roslyakova worked as a nurse in an oncological center and raised her son alone.
Vladislav Roslyakov, according to his acquaintances, was not friends with anyone and was not in close relations. He avoided people, preferring to spend leisure time alone.
Vladislav Roslyakov regularly performed educational tasks, did not miss lectures, led an unremarkable lifestyle. I took tests and did my homework on time.
Roslyakov was interested in computer games, mainly shooters. Vladislav's acquaintances said that the older he got, the more he showed aggression towards adults.
Roslyakov's mother Galina was a member of the sect of Jehovah's Witnesses for some time, but Vladislav did not share her views. *
(*) One should nevertheless take into account the fact that Jehovah's Witnesses obligatorily take children to preaching and meetings and limit their leisure time. In any case, the influence of the sect affected Vladislav's psyche.
On several occasions, he expressed his admiration for Eric Harris and the 1999 Columbine murder in the United States, which was partly confirmed – at the time of the murder, he was wearing a white T-shirt with the words "Hatred", black trousers and black high boots.
One of Vladislav's acquaintances, a 15-year-old girl whose name has not been disclosed, told the investigation that Roslyakov was persecuted in college, persecuted for being "not like everyone else".
Vladislav was especially offended by the fact that he was from a family of low income and could not afford expensive clothes and jeans from the United States, for which he was attacked by wealthier students.
Be that as it may, but the official motive for the massacre was the persecution of a student.
Roslyakov did not have many contacts on social networks and he deleted most of the messages. One message from Dvach imageboard was saved:
I woke up at 5.15, made breakfast, and played 12 hours in front of the monitor. And on weekdays I am in pairs from 9.30 to 16.30. Then I'll spend the rest of the day at the computer. Interesting? So 362 days a year.
Why would I write this? There are a couple of million more like me on this social network alone. I'll answer right away – I have empathy below the plinth. I think I'm semi-psychopathic.
I am little interested in communicating with my own kind. All feelings are lies, deception and bullshit. You should hide them from yourself.
And yet, there are some idiots around, and there are thoughts – to shoot them all. But killing people is bad. I expressed only a subjective opinion and do not urge anyone to kill
Preparing to kill
In 2015, Vladislav Roslyakov was enrolled in the Kerch Polytechnic College for the specialty – "Installation, adjustment and operation of electrical equipment in industrial and civil buildings." At the time of the massacre, he was in his 4th year.
According to Russian laws, Roslyakov attended a course on handling firearms and passed all checks, including by a psychiatrist.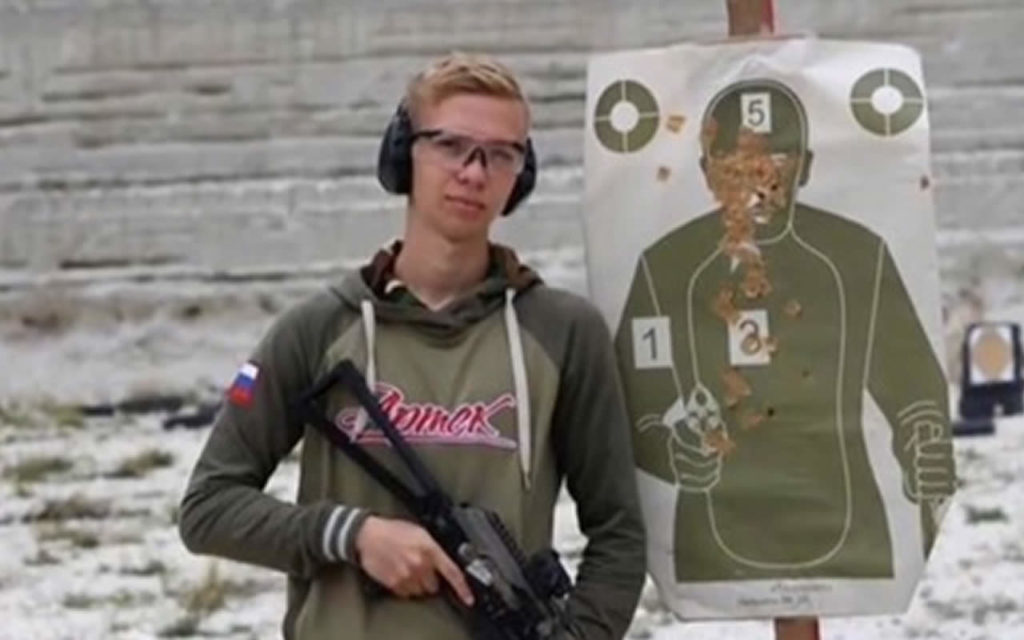 In the summer of 2017, Vladislav Roslyakov received permission to purchase a hunting smooth-bore weapon and bought a Hatsan Escort pump-action shotgun.
In January 2018, he bought 150 12-gauge buckshot rounds, indicating that the killer had planned his action in advance.
Investigation
The police, FSB and journalists were desperately looking for Roslyakov's "curators". After all, it would be very tempting to find a "Ukrainian trace".
It is curious that due to the fact that Crimea is de facto a part of the Russian Federation, and de jure belongs to Ukraine, a criminal case was opened in Ukraine on the fact of the mass murder of citizens.
However, Roslyakov diligently cleaned up the correspondence and deleted the messages before the murder.
It was nevertheless established that Vladislav Roslyakov communicated closely on social networks with a group of neo-Nazis.
Several quotes from his correspondence with acquaintances were still found: hackers managed to hack Roslyakov's page which he registered on the Vkontakte social network under the name "Anatoly Smirnov"
Now I look at our former class – where is it heading? Drunkards, whores. I studied their biographies. It's the same in college. People are too much the same. So I study for a diploma, I study well, the teachers consider me very promising, and my parents are already dreaming of how I will work and get a lot of money. And I don't need this diploma. And parents … If you only knew how I hate everything. You have already been assigned and shoved into universities without your opinion, everything was decided for you. Luckily, I'll give myself a great prom and all this shit will end. Everyone has some plans for you: grandmother and grandfather are a successful grandson, mother is a son with a good education.
On April 24, 2019, the head of the Investigative Committee of Russia, General Alexander Bastrykin, made a statement in which he indicated the persecution of Vladislav Roslyakov as the main reason for the massacre in the Kerch College.
Consequences
Soon after the murder, Vladislav Roslyakov's mother Galina Roslyakova ended up in a psychiatric clinic due to stress. However, she quickly came to her senses.
Fearing persecution and bullying, she changed her name and moved.
Vladislav's father, Igor Roslyakov, died in the hospital. Soon after the incident with his son, he was attacked for the purpose of robbery. Two men hit him on the head and beat him. Igor Roslyakov was taken to hospital, but died from his injuries.
It was also discovered that Vladislav has a sister, Elena, who lives in Donetsk. Elena had to change her name due to attacks. This is the only person who stood up to defend Vladislav.
The State Duma of the Russian Federation adopted a bill that prohibits the sale of hunting firearms to citizens under the age of 21.
It was also decided that colleges and schools will no longer be guarded by private security companies. These functions were assigned to the Russian Guard, which, however, did not prevent several more massacres committed in Kazan in May 2021 and in Perm in September of the same year.
Investigation completed, but questions remain
It remains unclear where Vladislav Roslyakov received the money to take courses on handling weapons, pay the duty and buy the weapon itself. Given the fact that Roslyakov was from a poor family, the amount spent, about 40,000 rubles ($ 560), was a significant expense for a teenager who did not have enough money for jeans.
Roslyakov's suicide looks very strange because almost immediately after the explosion and shooting, Rosgvardia officers arrived at the scene. At the same time, Roslyakov did not use up all the ammunition, he fired 10-15 shots, and with him there was at least 100-150 cartridges.
Where did Roslyakov test explosive devices? Yes, the recipe for making an explosive device can be found without difficulty, but it must be tested to get the result. The investigation has no answers to this.
And the most important thing is the motive of the crime. The motive about bullying does not seem convincing in light of the fact that Roslyakov was closely associated with neo-Nazis. As a rule, neo-Nazis in Russia heroize themselves by publicity of their actions, shoot videos of murders and popularize their activities in every possible way. This was not the case in the case of the Kerch murderer.
However, we will probably never get the answers to these questions.
Victims of the Kerch shooter