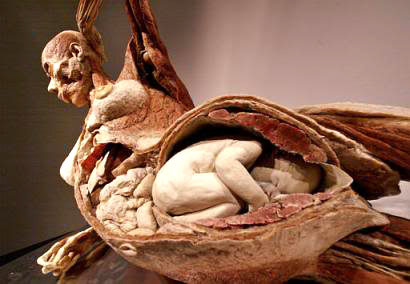 Gunther von Hagens' exhibition "The Cycle of Life" in Singapore will be held without the participation of many exhibits
The work of Gunther von Hagens has been heavily criticized in the past, but the theme of conception and death, made by Hagens this year, as usual from human corpses, caused sharp outrage in the science center of Singapore.
Some scenes showing the genitals at the time of copulation cannot be presented in the exhibition due to the religious and philosophical beliefs of the majority of Singaporeans.
"Sensational sexual activity goes against our beliefs. We do educational and scientific research, and there is already too much controversy about Hagens' discounts, "says Chu Tuan Chong, Executive Director of the Science Center.
"Death and sex are taboo topics. I brought them together. Death refers to life … Without sex, life cannot exist, "von Hagens said in a recent interview.
Sex combined with death is often considered necrophilia, and if it's not illegal, it is certainly enough to make a person vomit at the sight.
However, in Germany there is no law prohibiting depicting sex with a corpse if consent was obtained from the person during his lifetime.
Since 1995, von Hagens exhibitions have been visited by over 28 million people around the world.